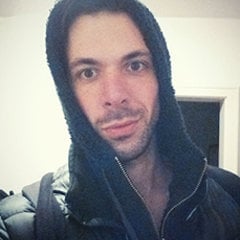 Paolo Giandoso
Senior Concept Artist at DNeg
London, United Kingdom
Summary
Hi, my name is Paolo.
I was born in Italy in 1986. I am a Concept Artist.
I have a deep passion for digital painting, 3D sculpting and traditional drawing.
I love to mix 3D with digital painting and experiment with mixed media.
I work hard and fast and I like to learn new things from the creative minds around me.
Feature-Film Credits:
- "The Matrix: Resurrections"
- "Immortal"
- "Venom: Let there be Carnage"
- "Ghostbusters: Afterlife"
- "Wonder Woman 1984"
-"Brahmāstra"
- "Venom"
- "The Kid who would be King".
- "Pacific Rim: Uprising"
- "Wonder Woman"
-"Independence Day: Resurgence"
- "Captain America: Civil War"
- "Ant-Man"
- "Pixels"
- "The Avengers 2: Age of Ultron"
- "Captain America: The Winter Soldier"
- "Iron-Man 3"
- "The Seventh Dwarf"
Skills
Concept Art
Illustration
Storyboarding
VFX Concept Art
Color-script
Software proficiency
Productions
Movie

Meg 2: The Trench

Year

2023

Role

Concept Artist

Company

DNeg

Movie

The Matrix 4

Year

2021

Role

Concept Artist

Company

DNEG

Movie

Gostbusters: Afterlife

Year

2021

Role

Concept Artist

Company

DNEG

Movie

Wonder Woman 1984

Year

2021

Role

Concept Artist

Company

DNEG

Movie

Venom

Year

2018

Role

Concept Artist

Company

Dneg

Movie

Infinite

Year

2021

Role

Concept Artist

Company

DNEG

Movie

Brahmāstra

Year

2020

Role

Concept Artist

Company

DNEG

Movie

Pacific Rim: Uprising

Year

2018

Role

Senior Concept Artist

Company

Double Negative

Movie

Wonder Woman

Year

2017

Role

Senior Concept Artist

Company

Double Negative

Movie

Passengers

Year

2016

Role

Concept Artist

Company

MPC

Movie

Ant-Man

Year

2015

Role

Senior Concept Artist

Company

Trixter Film GmbH

Movie

Pixels

Year

2015

Role

Concept Artist

Company

Trixter Film GmbH

Movie

Avengers: Age of Ultron

Year

2015

Role

Concept Artist

Company

Trixter Film GmbH

Movie

Iron Man 3

Year

2013

Role

Concept Artist

Company

Trixter Film GmbH
Experience
Senior Concept Artist at DNeg

London, United Kingdom

Projects:

"The Matrix 4"

"Venom: Let it be Carnage"

"Infinite"

"Ghostbusters: Afterlife"

"Wonder Woman 1984"

"Brahmāstra"

"Venom"

"The Kid who would be King"

"Pacific Rim: Uprising"

"Wonder Woman"

Concept Artist at MPC (advertising)

London, United Kingdom

October 2016 - January 2016

Concept Artist (Freelance) at MPC

London, United Kingdom

Projects:

- Passengers

- King Arthur

Senior Concept Artist at Trixter Film

Munich

July 2015 - February 2016

Projects:

- "Ant-Man"

- "Independence Day: Resurgence"

- "Captain America: Civil War"

Concept Artist at Trixter Film GmbH

Munich, Germany

September 2013 - June 2015

Projects:

- "Avengers: Age of Ultron"

- "Captain America: The Winter Soldier"

- "DxM"

- "The Man in the High Castle"

Junior Concept Artist at Trixter Film GmbH

Munich, Germany

Projects:

- "Iron Man 3"

- "Agent Carter"

- "Star Force"

- "The Seventh Dwarf"

3D Modeller at Minivegas

Amsterdam, Netherlands

December 2011 - December 2011

Prop modelling, environment digital sculpting and texturing